Greece's prime minister pledged on August 21 after a meeting with Ukrainian President Volodymyr Zelenskiy to help train Ukrainian F-16 warplane pilots and assist in the reconstruction of Ukraine, particularly the port city of Odesa.
Zelenskiy, speaking at a news conference in Athens on August 21 alongside Greek Prime Minister Kyriakos Mitsotakis, called the promise "an important result for the air coalition" and thanked Greece for the offer.

Training by an 11-nation coalition is to begin this month, and officials hope pilots will be ready by early 2024.

Mitsotakis said Greece would "be present" in the effort to reconstruct and rebuild Ukraine with "particular emphasis on Odesa."
RFE/RL's Live Briefing gives you all of the latest developments on Russia's full-scale invasion, Kyiv's counteroffensive, Western military aid, global reaction, and the plight of civilians. For all of RFE/RL's coverage of the war in Ukraine, click here.
Greece has already joined its NATO and EU partners in strongly backing Ukraine against the Russian invasion. It has also provided material military assistance in the form of armored personnel carriers and ammunition.
Zelenskiy is in the Greek capital for talks with the country's leaders and to attend an informal meeting of representatives of Balkan countries and top European Union officials.
He was to join in an informal dinner organized by Mitsotakis for top officials from nine Balkan nations as well as European Commission President Ursula von der Leyen and European Council head Charles Michel to discuss the Western Balkans' future in the EU, Mitsotakis's office said.
Earlier on August 21, Ukrainian President Volodymyr Zelenskiy has thanked Danish lawmakers for their support in helping Kyiv fight off Russia's invasion, while Moscow said that the decision by Denmark and the Netherlands to send F-16 jet fighters to Ukraine would escalate the war.
Zelenskiy's comments in Copenhagen on August 21 came a day after he announced that Denmark had approved sending 19 of the advanced warplanes to Ukraine. Zelenskiy also said that the Netherlands had agreed to send 42 F-16s, although Dutch Prime Minister Mark Rutte said that while his country has 42 of the planes available, it has yet to decide whether all of them will be donated.

Ukraine has repeatedly requested F-16 fighters from its Western partners, and Denmark and the Netherlands are the first to answer the call. Kyiv has said it needs the planes to bolster its dwindling fleet of Soviet-era jets as it carries on with a counteroffensive in the face of a significant Russian advantage in the skies over Ukraine.

On August 20, Zelenskiy thanked the Netherlands and Denmark for their pledges to deliver the F-16s, saying: "We are working, making Ukraine stronger, and the Ukrainian air defenses more secure!"

Addressing Danish lawmakers, Zelenskiy said on August 21 that "all of Russia's neighbors are under threat if Ukraine does not prevail" in the now 18-month-long war launched by Moscow.
Zelenskiy later told a large outdoor crowd in Copenhagen that "we are confident that Russia will lose this war."
Denmark and the Netherlands, both NATO members, announced their decisions to donate the F-16s to Ukraine in a joint statement on August 20, but did not specify the number of aircraft.

Denmark has suggested that its F-16s could be delivered by the end of the year after four to six months of training.
Rutte did not provide a number or a time frame for deliveries, indicating that some of the 42 aircraft that the Netherlands has available would be needed for training purposes and that timing depended on the readiness of Ukrainian crews and infrastructure.

"The F-16s will not help immediately now with the war effort. It is anyway a long-term commitment from the Netherlands," Rutte said. "We want them to be active and operational as soon as possible.… Not for the next month, that's impossible, but hopefully soon afterward."

Both the Netherlands and Denmark are members of a Western coalition that is training Ukrainian pilots — first in Denmark and then in Romania — to fly the sophisticated F-16. While Zelenskiy declined while in the Netherlands to say how many Ukrainian pilots would be trained, Denmark said last week that training would begin this month.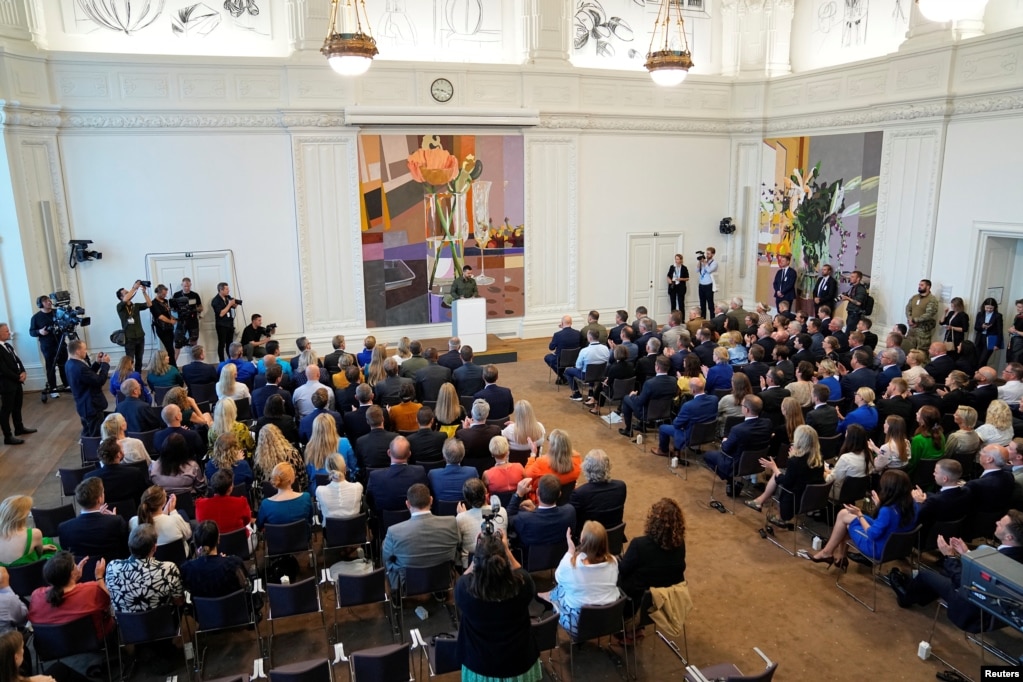 The United States last week authorized Denmark and the Netherlands to deliver the American-made F-16s to Ukraine.

On August 21, Danish Defense Minister Jakob Ellemann-Jensen told the Ritzau news agency that Kyiv may only use the Danish and Dutch F-16s within Ukrainian territory.

"We donate weapons under the condition that they are used to drive the enemy out of the territory of Ukraine. And no further than that," Ellemann-Jensen was quoted as saying. "Those are the conditions, whether it's tanks, fighter planes, or something else."

Russia on August 21 condemned the decisions by Denmark and the Netherlands to provide the aircraft.

"The fact that Denmark has now decided to donate 19 F-16 aircraft to Ukraine leads to an escalation of the conflict," Russian Ambassador to Denmark Vladimir Barbin said in a statement cited by the Ritzau news agency on August 21.

"By hiding behind a premise that Ukraine itself must determine the conditions for peace, Denmark seeks with its actions and words to leave Ukraine with no other choice but to continue the military confrontation with Russia," Barbin said.
Source : REFRL