The majority of food consumed in The Gambia is imported, but a growing number of young entrepreneurs are starting food production companies, encouraged by the availability of UN-supported training.
At only 24 years of age, Alhadgie Faal has built a successful small business, by turning family land in Kanuma, which is in Gambia's North Bank region, into a sizable plot, where he grows fruit and vegetables to sell to restaurants and hotels.
He started his company after receiving training from a UN Capital Development Fund (UNCDF) programme[DD1] , focused on supporting women and youth, particularly in rural areas.
"Before I started this business, I was a carpenter, but agriculture was always my passion. Without agriculture we can't feed the nation, and I had a dream to supply The Gambia with healthy produce.
About four years ago, my stepfather told me that free UN training in agriculture, horticulture, and food processing was available. He applied for me, and I was accepted.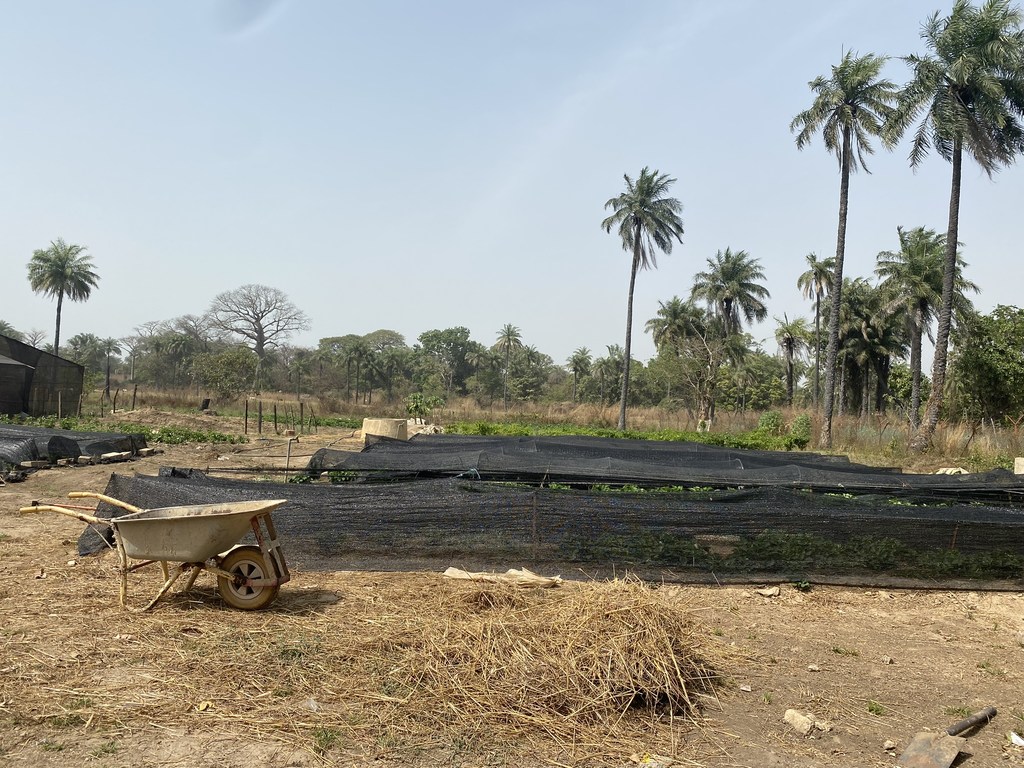 Planting The Seeds of A Business
I was really happy, because we are a farming family with little money, and I would not have been able to afford fees and transport. But all of these expenses were included in the offer, so I was able to go to the college.
The training was extremely useful. We learned about agronomics, how to manage crops, when to plant, and how to select the right site.
Once I graduated, I got the idea to start my own fruit and vegetable business. My stepmother owned some land, and she allowed me and my brother to use it. The land was all bush back then, so my brother and I cleared it to create a garden.
At the beginning, I faced many challenges. Any time we planted or sowed seeds, rodents would come and destroy everything. We also had to cope with termites, pests, and diseases.
Eventually we overcame these problems. Today, we protect the crops with netting to protect them from rodents, and we cover them with plastic for three to four days to generate heat, which suppresses the termites.
From Peppers to Papayas
We grow many different crops here. We have green bell peppers, hot yellow peppers, papayas, and strawberries.
We have been successful in selling our fruit in the Banjul region. We are supplying restaurants, hotels, and some private people.
Many people like our produce because it's very tasty. Our strawberries are large and sweet, and all of our fruit and vegetables are organic. This is vital, because chemicals are not good for human health or the environment.
Starting an agriculture business in The Gambia is very hard. You have to be patient, or you won't succeed. Transport is a problem, and expansion is very complicated, because it's hard to get access to grants and loans. Funding is a big issue, especially for young farmers.
My advice for anyone who wants to be an entrepreneur is to focus on agriculture, so that we can avoid importing from our neighbouring countries. We have the land, and we can get water from the river. We have everything we need to survive.
I would like Gambians to eat Gambian strawberries. People have the misconception that we don't grow the fruit here, and that's what motivates me to succeed."
UNCDF in The Gambia
Mr. Faal's training, a three month course on horticulture vegetable production at Gambia Horticultural Enterprise (GHE), was provided as part of the Jobs, Skills and Finance (JSF) programme for Women and Youth in The Gambia, the flagship programme of the UN Capital Development Fund (UNCDF), in collaboration with International Trade Center (ITC), and EUR 15 million of funding from the European Development Fund.
JSF addresses persistent challenges in The Gambia which include lack of job opportunities for youth and women, low levels of financial inclusion and climate change adaptation and mitigation.
The objective of JSF is to provide support to local training provider,s to improve the quality, and accessibility of vocational training schemes offered to youth and women, which will be linked to the Cash for Work (CfW) opportunities, and key sectors at the local level. Local training institutions are contracted, based on a competitive funding model, to provide training in different skill areas highly demanded by the labour market.
The programme supports Target 8.3 of Sustainable Development Goal 8, which calls for the promotion of development-oriented policies that support productive activities, decent job creation, entrepreneurship, creativity, and innovation, and encourage the formalization and growth of micro, small and medium-sized enterprises, including through access to financial services.
Find out more about the work of the UN in The Gambia here.
Source : UN News