Thousands of Romanian teachers gathered in central Bucharest to demand higher salaries and better working conditions. 
Baccalaureate exams have been postponed in Romania as the country's teacher strike continues into its third week.
According to Romania's education minister Ligia Deca, the high school exam will begin on 14 June after being pushed back by two days.
More than 150,0000 teachers in Romania have been on strike since May – their first since 2005. Unions are asking for an increase in salaries, overtime pay, inflation indexing and more supplies.
New teachers in the EU country make less than 2,4000 lei [€462] a month. The average wage in Romania is around 4,554 lei [€945].
The delay follows the Romanian government's decision to adopt a memorandum that says educators will receive an increase in their salary next year.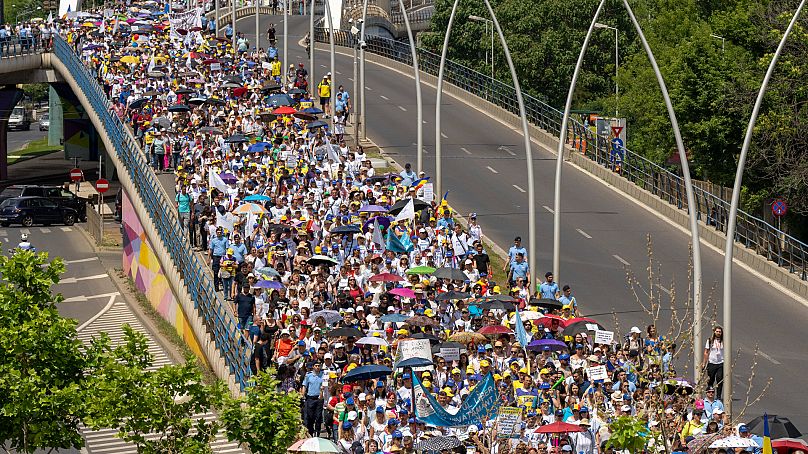 The move could mean that new teachers' salaries will be similar to the national average income. From 1 January 2024, salaries will reportedly increase through phases, with the first instalment being 45% of the total jump.
After the pay increase announcement, Romania's Prime Minister Nicolae Ciucă called on teachers to end the strike.
"I am convinced that the teachers understand the call to reason and trust that I am working on behalf of the government to end this strike," he said. "These are political accountabilities. We also decided with Mr Marcel Ciolacu to sign a political commitment precisely to provide those guarantees."
However, teachers remain unconvinced, saying the commitment is not legally binding. More than 12,000 teachers from all over the country gathered at Victory Square for a rally on Friday.
One protester told Euronews: "Our colleagues are upset not only because of the salary but because of the lack of trust towards the government. In this country the law is not respected, nothing is respected anymore!"
Source: Euronews