It says it will not stop until Karabakh's ethnic Armenians surrender.
Tensions in the South Caucasus have been high for months around the breakaway region, recognised internationally as part of Azerbaijan.
Azerbaijan and Armenia last went to war three years ago.
In a statement on Wednesday morning, Azerbaijan's defence ministry said military equipment belonging to the Armenian armed forces had been "neutralised", including military vehicles, artillery and anti-aircraft missile installations.
Nagorno-Karabakh authorities say 27 people have been killed, including two civilians, and many more wounded since the offensive began.
Baku has said it is prepared for talks, but insists "illegal Armenian military formations must raise the white flag" and dissolve their "illegal regime".
Azerbaijan and Armenia first went to war in the early 1990s after the fall of the Soviet Union. Then in 2020 Azerbaijan recaptured areas in and around Nagorno-Karabakh before a truce was agreed and monitored by Russian peacekeepers.
Ethnic Armenians in Karabakh appealed on Tuesday for a ceasefire and for talks to start. But it was clear from the Azerbaijani ultimatum that Baku's aim was to complete its conquest of the mountainous enclave.
Armenian Prime Minister Nikol Pashinyan accused Azerbaijan of starting a ground operation aimed at "ethnic cleansing".
Hundreds of Armenian protesters, frustrated by their country's response, clashed with police outside parliament in Yerevan, condemning their leader as a traitor and calling on him to resign.
Both Russia's foreign ministry and US Secretary of State Antony Blinken called on Azerbaijan's president, Ilham Aliyev, to cease military action immediately.
Azerbaijan said talks could start in the town of Yevlakh, some 100km (60km) north of the Karabakh regional capital of Khankendi, called Stepanakert by ethnic Armenians.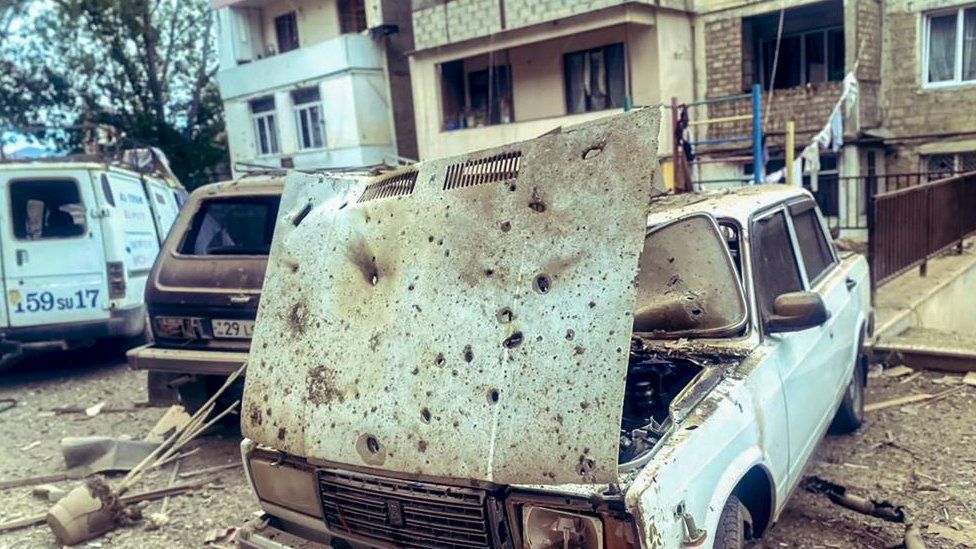 Since the end of 2020, 2,000 Russians have monitored the fragile truce but Moscow's attention has been diverted by its full-scale invasion of Ukraine.
An estimated 120,000 ethnic Armenians live in the mountainous enclave. Russia said its soldiers had moved almost 500 civilians from the most at-risk areas, while separatists said they had helped move a total of 7,000.
For the past nine months, Azerbaijan has imposed an effective blockade on the only route into the enclave from Armenia, known as the Lachin Corridor.
Azerbaijan said it had launched its operation in response to the deaths of six people, including four police officers, in two landmine explosions on Tuesday morning.
Air raid sirens then rang out and the sound of artillery and gunfire could be heard in Karabakh's main city. Residential buildings were damaged and journalist Siranush Sargsyan described seeing a building next door being hit.
Defence officials in the breakaway region said the Azerbaijani military had "violated the ceasefire along the entire line of contact with missile-artillery strikes". Other Karabakh representatives spoke of a "large-scale military offensive" although later reports said that the intensity of fire had decreased.
The Azerbaijan defence ministry insisted it was not targeting civilians or civilian buildings, and that "only legitimate military targets are being incapacitated by the use of high-precision weapons".
It accused Armenian forces of "systematic shelling" of its army positions and said it had responded by launching "local, anti-terrorist activities… to disarm and secure the withdrawal of formations of Armenia's armed forces from our territories".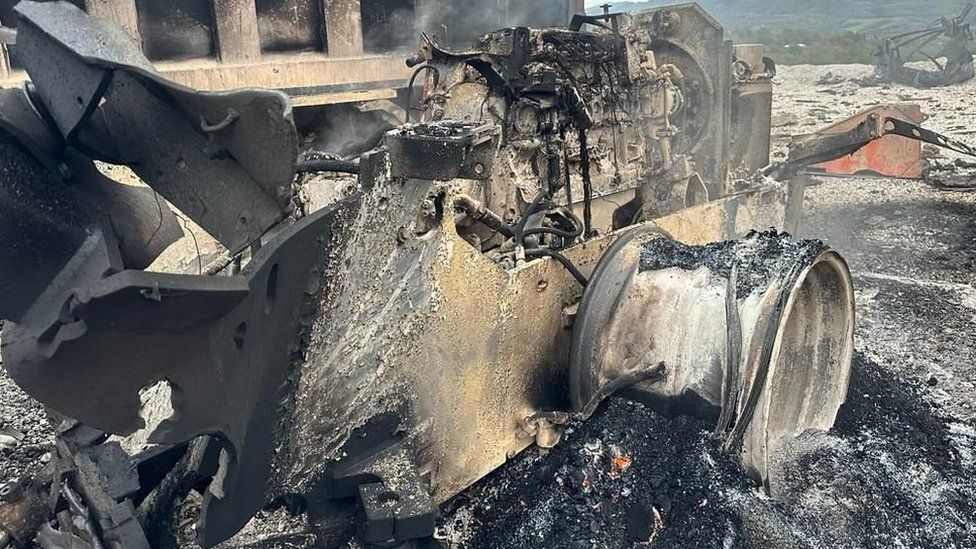 In a brief televised address, Armenia's prime minister rejected claims that his military was involved.
Russia's foreign ministry said it had been warned of the Azerbaijani offensive only minutes in advance and urged both countries to respect a ceasefire signed after the war in 2020. The EU's regional special representative, Toivo Klaar, said there was "urgent need for immediate ceasefire".
UN Secretary-General Antonio Guterres called for an immediate end to fighting on Wednesday morning and for "stricter observance of the 2020 ceasefire and principles of international humanitarian law".
South Caucasus commentator Laurence Broers said on Tuesday the Armenian population in Karabakh had been weakened by the blockade and the Azerbaijan operation had been launched "seemingly to retake Armenian-populated Karabakh in its entirety".
Armenia is a member of the Russian-led CSTO military alliance but relations with Moscow have soured.
Nikol Pashinyan said recently that Russia was "spontaneously leaving the region" and 175 Armenian soldiers have been taking part in military drills with US forces this week. Azerbaijan meanwhile has strong support from its ally Turkey.
Hikmet Hajiyev, special adviser to Azerbaijan's president, called on the separatist ethnic-Armenian administration to "dissolve itself".
"Azerbaijan has always said we are ready to provide rights and security of Karabakh Armenians under the constitution," he told BBC News.
Azerbaijan had denied building up troop numbers in the region and there had been hopes that tensions might subside.
On Monday, it allowed aid from the International Committee of the Red Cross into Karabakh on two roads, one via the Lachin Corridor from Armenia and the other on Azerbaijan's Aghdam road.
Source : BBC